Kuni Automotive Announces Acquisition by Holman Automotive
Deal will create one of the nation's largest family-owned dealer networks with
significant charitable impact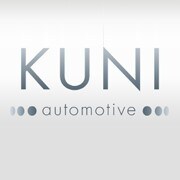 Vancouver, Wash. - April 12, 2016 - Kuni Automotive of Vancouver, Washington, today announced it is being acquired by Holman Automotive of Maple Shade, New Jersey. The arrangement will create one of the largest privately owned dealer networks in the country; it also ensures a long and sustainable future for the Wayne D. Kuni and Joan E. Kuni Foundation.
Kuni Automotive, with dealerships in Washington, Oregon, California, Colorado and Kansas, will maintain its brand name and will be known as "Kuni Automotive, a Holman Enterprise." Holman currently has dealerships in New Jersey, Pennsylvania and Florida. The acquisition, expected to be finalized this summer, will create a bi-coastal dealer network with 33 dealerships and more than $3 billion in overall annual revenue, doubling Holman Automotive's retail holdings. The terms of the deal will not be disclosed.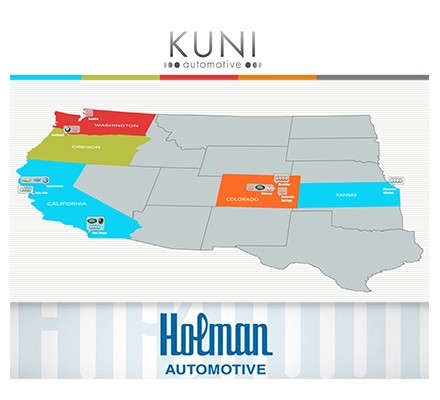 It was vital to Kuni Automotive CEO Greg Goodwin to find a buyer who not only shares his company's values, but would also create a company that is not just bigger, but better.
"Kuni Automotive is committed to actively planning for the future, because we take our role as an employer seriously and want to continue the company's values set forth by the Kuni Family. In partnering with Holman Automotive, we are creating a company that is greater than the sum of its parts," said Goodwin, who will remain with the company in a leadership position. "It's easy to get lost in the 'bigness' of this transaction, but 'big' doesn't serve a purpose if it doesn't improve the company."
A key component of the arrangement is continuing the mission of the Wayne D. Kuni and Joan E. Kuni Foundation, the majority shareholder of Kuni Automotive. The charitable foundation has supported cancer research and worked to enhance the lives of developmentally disabled adults since 2005.
The Kuni Foundation recently opened Stephen's Place, a facility in Vancouver, Washington, designed to provide supported housing to adults with intellectual disabilities, meeting the diverse needs of its residents by enabling each of them to "age in place" as members of a productive, independent community.
The deal secures the Foundation's ability to fund its work well into the future. Additionally, the Foundation expects to be able to broaden the scope and geography of its charitable outreach.
"Our two companies share a deep culture of charity and community service," said Melinda K. Holman, Chairman of the Board of Holman, who will join the board of the Kuni Foundation. "Knowing that more than half of the proceeds will go to the Kuni Foundation and serve people in need for decades to come is a wonderful byproduct of this transaction."
The expansion between Kuni Automotive and Holman Automotive comes at a time of consolidation and innovation in the automotive industry. Both parties share a commitment to continuing the vision of Kuni Automotive's founder, the late Wayne D. Kuni.  
"The deal with Holman Automotive will allow Kuni to remain a leader in the auto industry for generations to come, and will ensure the foundation continues its legacy of investments in the community," said Sean Kuni, son of Wayne and Joan Kuni.
Once the deal has been finalized, Kuni Automotive, a Holman Enterprise, plans to remain a privately owned company as it continues to grow and flourish.